Newsletter Chaudesaigues award - EN
An exceptional trophy for a unique tattoo award
As a unique tattoo award, the tattoo trophy representing the Chaudesaigues Award illustrates a symbolic and diverse piece of work bearing deep family and ancestral roots. So, what's the trophy called? Le Cœur des marguerites (the heart of daisies in French).
A tattoo award in the form of a sculpture: le Cœur des marguerites
Inspired by psychorealism, the Cœur des marguerites is made of earth and water, from a simple block of clay transformed into plaster, then wax and finally bronze by the expert hands of the craftsman.
The tradition of lost wax casting is where the Chaudesaigues Award's ideal look was found: bronze, marble and gold meld as intricate elements to form a piece that not only represents a more contemporary approach, but also a nod to the Golden Age in French history. Le Cœur des marguerites can't be described easily, it's more like something you feel... Like a heartbeat, the bronze and gold heart with mysterious sprouting flowers cannot be withered easily.
Our tattoo award was revealed for the first time during the Best of the Midwest convention organised by Shane O'Neill in February 2012 in Iowa, U.S.A. Se its creation in this video:
Behind the name of our tattoo award: a poem by Patrick Chaudesaigues
A poem lies behind our unique tattoo award, written by Patrick Chaudesaigues, closely linked to our tattoo award and the festival where it is awarded. What's the poem called? Le Cœur des marguerites – what else?
Jean-Baptiste Martin, the sculptor behind the Cœur des marguerites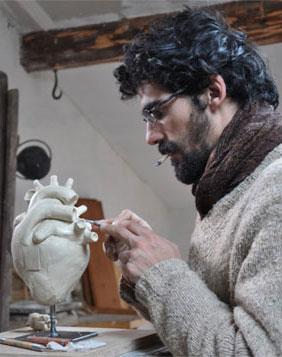 As a child, he found his love for materials that could be manipulated by hand. Although some may have lost interest in modelling, Jean-Baptiste Martin certainly didn't on his path which has guided him through his professional and artistic choices.
Although he's not fully self-taught, his background is far from conventional. Born in 1979, Jean-Baptiste Martin grew up in a family of strong artistic influence. His mother was a social psychology teacher who loved photography, and his father was a music editor and filmmaker. He graduated from secondary school in 1997, and after three weeks studying art history at Université Michelet Paris IV, he realised that he didn't want to study art, he wanted to make it.
He then began as an apprentice in 1998 with sculptor Yann Guillon who taught him the artistic eye for sculpture, how to look at a living model, ways of creating silhouettes from clay, and about rudiments from bronze-like materials, moulding, carving and burnishing. Burnishing, the art of colouring bronze using heat to activate mineral salts fascinated him. In October 2000, he decided to get more serious about his work and joined the Chapon foundry. Planning on spending two years there, the time to learn the trade inside out, he only left in April 2008 in the end. During this eight-year period, he never stopped working with the earth, and enjoyed the foundry to practice moulding, carving and obviously melting bronze.
Although this period drew him away from just creating for a short time, he is now propelled by his desire to fully dedicate himself to sculpting. This desire isn't totally removed from his learnings at the foundry though: Jean-Baptiste Martin sculpts clay using steps that turn this clay into something bronze-like.
Working from Auvergne, where the calm and nature-filled surroundings allow him to create in peace, he now wants to create bigger pieces, in a workshop large enough to let his imagination run free.